The Syndicate Writes the Planetside 2 Wikia
After Prima Games shifted focus away from Online Game Guides, The Syndicate had one final project with its members interested in trying their hand at guide writing and that was an experiment with Sony Online Entertainment to see if wiki's could be created directly for game developers that had value and meaning to the community. That took place from mid to late 2012. The wiki was created but it was a painful process. One of the challenges is that the data for the game changes as fast as it gets recorded and players have a low tolerance for inaccurate data when its coming from an "official" endorsed source. Another challenge is that in the wiki format anyone can go in and edit and change data. And using wikia as the source system meant that the wiki couldn't be hidden from the community as it was being developed. So edits, changes, removals etc.. added more problems to the process. The end result was a professioal looking wiki but with competing sites live at the same time pulling viewers from the official wiki; accusations of stealing content between those competing sites; budget cuts at the game studio, lay-offs and general gaming industry downsizing, it was a one time experiment not destined to be repeated. Neat learning experience but the 'free' and 'open source' community model achieves nearly the same results with no costs and less complaining by the community.
In October 2012, the official
Planetside 2 Wikia
launched. The wikia represents several really cool things. It is definitely a very professional looking, very rich in content site that we are proud to be a part of but it was a one time investment of time and a one time experiment by the gaming companies. The era of budget cuts; studio closings; layoffs and free, community sourced options has eliminated any chance of a market developing for 'for pay' kinds of work.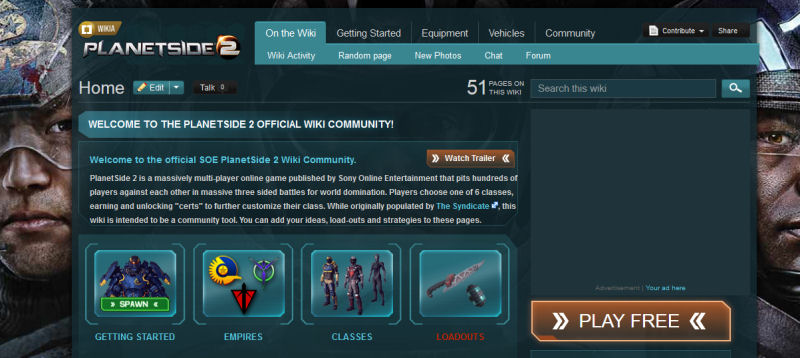 -->