Electronic Arts Celebrates 7 Years Of UO
Sept 23-25, 2004
San Francisco, CA
Ultima Online turned 7 years old on Sept 25th, 2004. Electronic Arts wanted to celebrate the success of the first 7 years and also look into the future and the plans for Ultima to exist for many years to come. EA invited a little more than a dozen people and spouses to come to their headquarters in San Francisco to celebrate with them. That group consisted of well know UO news sites (like Stratics, Markee Dragon, UO PowerGamers and Ianstorm to name a few) and The Syndicate.
The legendary Binky (also known as Binky Ninja, wearer of the headband of powah!) and Welkie were the organizers of the event and arranged to fly everyone to california and coordinated all of the events. They did a superb job and the event was a great success.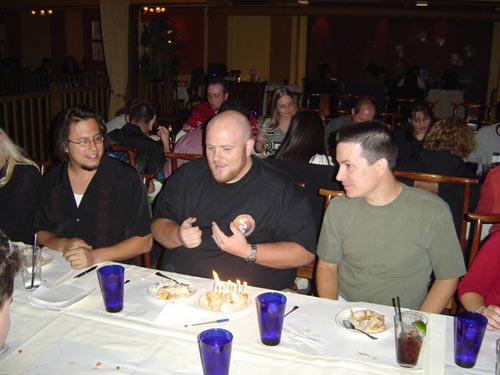 The past, present and future of UO were all hot topics of the event. An NDA was signed by those present to keep certain things confidential as the future of UO explored. The current expansion of the time, UO: Samurai Empires, was played. And the participants pointed out issues, bugs and ideas. A tangible, positive affect was felt immediately by the UO:SE team as several bugs were able to fixed while the Anniv. Event was underway.
The weekly UO developer team meeting also took place with attendance and participation by the invitees. Mr. Tact was named the employee of the week and received a copy of Fable as his prize.
It is hard to believe that 7 years have passed since UO went live. Even longer than that has passed since those early pre-alpha days when you gained levels and not skill points when UO was just a concept and not really a game. UO has set the mark for longevity and excellence that other MMORPGs strive to equal or surpass and it is still going strong. Clearly the world that Richard Garriott put in place so many years ago still thrives in the minds and hearts of many gamers. With so many major MMORPGs being canceled (like Dragon Empires) and others going bankrupt (like Horizons) or others falling short of publishers expectations (like Shadowbane), Ultima Online stands out even more from the pack as a shining example of MMORPG success.
Here is to hoping for 7 more great years!