Posted by: Peter in Untagged on Aug 25, 2008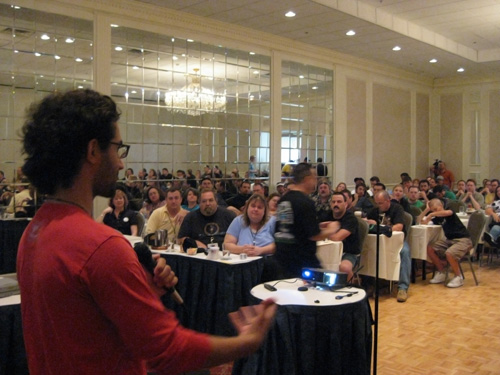 That's a pic Juan of awsering questions at The Syndicate 2008 World Conference. Vic, Juan, and I drove up and crashed at my parent's house near Boston on Friday night. Saturday morning we drove to a Sheraton that looks like a castle to set up our 10:30 am screening. The Syndicate, under the leadership of Sean "Dragons" Stalzer, had taken over the ball room next to a Yoga gathering called Finding Inner Peace. Dragons introduced us to the 130 members of the Syndicate who had gathered. We played the film with out a hitch, and they liked it.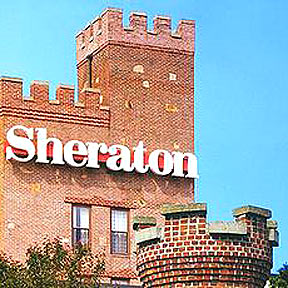 We had a spirited Q & A with the Syndicate afterward. They dug the film. With the Synidicate we were just releaved they didn't heckle us out of the room. Vic and I had witnessed quite a tounge lashing when the Syndicate visited EA at last year's conference. We are always thrilled when people in the film appreciate what they see.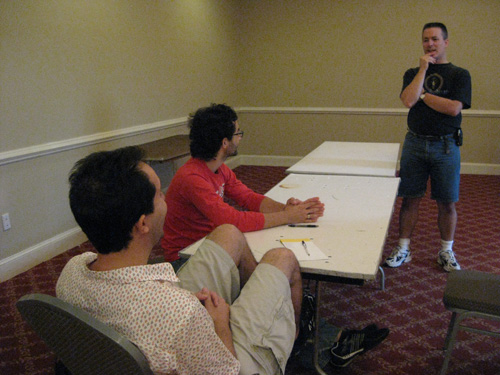 Here we are talking with Dragons about Warhammer Online, 38 Studios and world domination, Prima Games and more.
Dragons tells the Syndies that Prima game guides they helped to write have sold 250,000 copies. Sadly we couldn't stick around for too long. I had business to attend to back in NYC. I am pleased to say I have new job filming Team Argaol race Grand Torismo around the world.
We can't thank every member of the Syndicate enough. Dragons is truly a inspiring leader. Being witness the community they have build is remarkable. And dude, they know how to have a great time. Long Live the Syndicate.